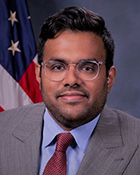 Dr. Vijeth Iyengar serves as the Brain Health Lead and Technical Advisor to the Deputy Assistant Secretary for Aging at the Administration for Community Living (ACL), an operating division of the U.S. Department of Health & Human Services (HHS).
At ACL, Dr. Iyengar provides management and oversight of grant programs across the nation as they implement evidence-based dementia care interventions and services at the home and community-based level. He also oversees a grant program which seeks to bolster the tools available to boost financial literacy and preparedness among family caregivers. As brain health lead, Dr. Iyengar spearheads program-related activities touching on this topic including its brain health educational work.
Dr. Iyengar is an ex-officio member of the National Institute on Aging's National Advisory Council on Aging and serves as Executive Secretary for the National Science & Technology Council's Task Force on Research and Development for Technology to Support Aging Adults. He has delivered presentations at the U.S. Library of Congress, the U.S. National Academy of Sciences, and the National Home and Community Based Services Conference among others.
He is lead-author of a National Academy of Medicine perspectives discussion article on the federal response to trauma experienced in late life and is a co-author on articles appearing in the Journal of Experimental Psychology: General, Brain, Cerebral Cortex, Cognitive, Affective, & Behavioral Neuroscience. He has also contributed blog posts for Scientific American, American Society on Aging and the American Psychological Association's Public Interest Directorate.
Dr. Iyengar has completed internships at the Pan American Health Organization/World Health Organization, the National Institutes of Health, and the Louisiana Department of Health & Hospitals. He is the recipient of a National Science Foundation Graduate Research Fellowship, a U.S Presidential Management Fellowship, and recognized by the Duke University Alumni Association with the Forever Duke Award. He serves on the Regional Board of Directors for DukeDC and as a mentor for College Bound, Inc.
A native of Louisiana, he received his bachelor's degree from Tulane University and his doctorate degree from the Department of Psychology and Neuroscience at Duke University.