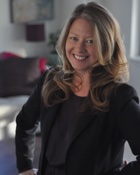 Susan Donley is Publisher and CEO of Stria, a new media platform for the longevity market. Launched in March 2018, Stria (strianews.com) provides information, experiences and content that inspire cross-sector solutions for our aging society. Our reporting and events deliver a foundation of understanding and insight for longevity professionals. And our client services help partners create powerful content and communication strategies that advance their position in the field.
Previously Ms. Donley served as Publisher and Managing Director of Next Avenue, public media's first and only national service for America's booming older population. Under Ms. Donley's leadership, Next Avenue served over 45 million people at nextavenue.org. In 2015, she founded Next Avenue's Influencers in Aging, an annual list of people changing aging in America. Ms. Donley led day-to-day operations, and was responsible for its strategic and financial success. She secured millions of dollars in revenue and financial support, and brokered collaborations with leading media outlets, nonprofits and government agencies. 
Ms. Donley dedicated to improving the lives of older people through powerful media and communications. She was recognized for her leadership with the 2017 What's Next Boomer Business Innovation Award for media. And she was named to Mayor Muriel Bowser's Age-Friendly DC Task Force, serving a term that lasts from 2018-2023. 
Throughout her career, Ms. Donley has cultivated expertise in organizational strategy, digital content, revenue development, strategic partnerships, branding and marketing. She is passionate about social change and public service, and has dedicated her career to promoting a sustainable nonprofit sector by putting smart strategies into action.
In 2007, Ms. Donley founded Susan Donley Consulting, which offers strategic business and communications services to nonprofits including Anne Tumlinson Innovations, Older Adults Technology Services (OATS), the New York City Department of Health and Mental Hygiene, PBS, WNYC Radio and the New School in New York. Ms. Donley was the communications director at national housing nonprofit CSH, and held positions at social marketing agency BBMG and marketing sales company Channel M. Ms. Donley's career began in public broadcasting where she led national advertising and promotion campaigns for PBS programs like Ken Burns' The Civil War, Frontline and Masterpiece Theatre, and worked on interactive campaigns, on-air initiatives and the launch of the PBS KIDS brand.