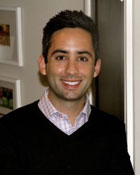 Riccardo is an Associate at Airbnb and is focused on supply acquisition strategies and partnerships in San Francisco and across the Bay Area.
Previously, he led Business Development efforts in New York City at Gravity, an Internet personalization startup that was acquired by AOL in 2014. Prior to that, he managed Business Operations at an enterprise storage startup called Whiptail, which was acquired by Cisco in 2012. Riccardo started his career modeling derivatives on Wall St before succumbing to the world of hyper growth technology companies.
Riccardo studied economics at the University of California, Berkeley, has three older sisters, and has parents who are hosts on Airbnb in Buenos Aires, Argentina.
Riccardo is passionate about world cultures and is a globe-trotter who enjoys traveling to some of the best places Airbnb has to offer.