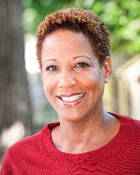 Dr. Janet Taylor is a New York City psychiatrist and renowned consumer health expert who has made it her mission to reach out to communities in need. She is a frequent contributor to CBS This Morning, The Today Show, and Good Morning America on the subjects of stress management, parenting, and work-life balance. The recipient of the National Medical Association's Women in Medicine Award, Dr. Taylor writes "Ask Janet," an advice column in Family Circle magazine. She currently works as Chief Visionary of Wired4Wisdom. She formerly hosted the Discovery Health/OWN series "Facing Trauma."
Dr. Taylor is a certified life coach who strongly believes in volunteer work. She is on the board of the National Black Women's Health Imperative and is a Red Cross Disaster Mental Health Worker, as well as a volunteer for the Tree House Bereavement Center in Westchester, New York. Dr. Taylor is the medical consultant for Children of Promise, an organization in Brooklyn that focuses on children who have an incarcerated parent.
Dr. Taylor is a former clinical instructor of psychiatry at Harlem Hospital. She created her company, Mind Projects, Inc., to address corporate stress management and health enhancement.