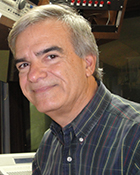 Since 2001, Gary L. Calligas has been the publisher of "THE BEST OF TIMES"  a monthly senior magazine for persons residing in Northwest Louisiana. Since 2002, he also has been the radio talk show host of THE BEST OF TIMES RADIO HOUR – a weekly radio show for seniors/boomers on NEWS Radio 710 KEEL, a 50,000 watts AM station and broadcasting live on the internet, on the  RadioPup app, and on Apple Podcasts. In addition, since 2012, he has been the Executive Director/CEO of North American Mature Publishers Association. Inc. (NAMPA) – the only international non-profit association of senior/boomer publications across the US and Canada. From 2014 to 2017,  he was the featured weekly columnist regarding "Senior Living" topics in the Gannett daily newspaper "The Shreveport Times".  In 2018, he was appointed as an Executive Council member of AARP Louisiana.
Gary was born and raised in Shreveport, Louisiana,  a graduate of C. E. Byrd High School, a graduate of Louisiana Tech University in Ruston, and a graduate of the Executive Management School of Babson College in Boston.
Gary has a wide variety of work experience:  A communication engineer, the Executive Director/CEO of a state-wide Medicare Peer Review Organization, a national health care provider management consultant, and a home health care administrator and branch director of a large national home health agency.
He has been awarded numerous awards and honors.  He has also authored many articles on a local, regional, and national basis. In addition, he has given many presentations to individuals/groups at seminars, conferences, conventions, and events.
Gary has been proudly married for 44 years to his lovely wife, Tina.  They have three adult children, three granddaughters and two grandsons.  Gary enjoys reading historical fiction novels, traveling in the US and abroad, boating on area lakes, listening to music, and piano playing.