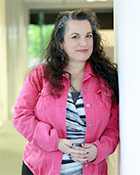 Known as the co-founder and COO of scrappy start-up-turned-pioneering-global-women's-media-company BlogHer, Inc., Elisa is now focused on writing, speaking, and consulting with entrepreneurs, thought leaders, and organizations at the inflection points when they are contemplating pivots, diversifying and scaling their revenue streams, and looking for better ways to get their narrative out into the world.
Her debut book, Road Map for Revolutionaries: Resistance, Activism, and Advocacy for All was published by Ten Speed Press on September 18 and was an Amazon #1 New Release. A hands-on resource guide to activating around the causes you care most about, #RoadMap4Revs features contributions and/or endorsements from such diverse activists and advocates as Gloria Steinem, Senator Kirsten Gillibrand, Patrisse Cullors, Soledad O'Brien, Ricki Lake, Guy Kawasaki, Bobby Jones, and Carla Hall.
Elisa's mission is to help make visions reality. Her mantra is that Innovation+Empathy>Innovation+Efficiency.
Find her at: https://elisacp.com