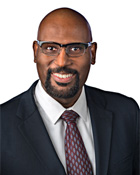 Terry Bradwell, AARP's Chief Enterprise Strategy & Innovation Officer, helps shape AARP's future through the development of a clear enterprise strategy and a strong innovation pipeline.
He is responsible for strategic planning, corporate relations and an innovation lab that continually looks at how we can do our work better and discover new solutions that help our members and
people 50+ live their best lives.

With over 25 years of domestic and international experience in information technology development, delivery and management, he has held a number of senior leadership positions.
As AARP's Chief Information Officer, he transformed the IT organization from a "cost center" to
a "value center," running IT like a business and stimulating innovation across the enterprise and closing the gap in digital literacy for the 50+.
Prior to joining AARP, he worked as a principal for IBM's Media and Entertainment practice, with a primary focus of turning around troubled IT projects and corporate change management initiatives.