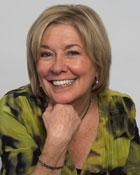 Sharon Emek is founder and CEO of Work At Home Vintage Experts LLC (WAHVE), an innovative talent solution that engages vintage professionals "phasing" into retirement who work from home for insurance firms. WAHVE's vision is to transform how businesses, workers and society view retirement so that people, businesses and society benefit from longer productivity. Previously, Emek was a partner at CBS Coverage Group, Inc., a regional insurance brokerage. She began her career as a professor at Rutgers University.
Emek is a prolific public speaker on insurance, management and women's business issues. She has appeared on CNN, CNBC, CBS, and is often quoted in numerous national insurance and news periodicals.
Emek has received numerous awards and recognitions, including Insurance Business America magazine's 2015 Hot 100 list, the 2014 "Elite Women in Insurance" by Insurance Business America, the first woman to receive the 1882 Fellow Award, the highest honor presented by IIABNY (2014), the first woman to receive the Sidney O. Smith Government Affairs Award from the IIABA (2007), Outstanding Committee Chairperson Award from IIABNY (2008), the Distinguished Service Award from IIABNY (2006), the Helen Garvin Outstanding Achiever Award from the NAIW (1999), and the National Promising Research Award for her doctoral research (1978).
She is the author of Answers for Managers and numerous articles on management and insurance issues.