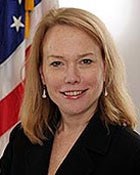 In July 2014, Nora Super was named Executive Director of the 2015 White House Conference on Aging in July. She brings both substantive expertise on the issues and the experience to help maximize the Administration's outreach and engagement with older Americans across the country. Prior to being named executive director, Nora served in a leadership role in the U.S. Department of Health and Human Services Office of the National Coordinator for Health Information Technology (ONC). At ONC, she was responsible for ONC's communication and public outreach strategy regarding stakeholder engagement, public affairs and congressional relations, media relations, website (HealthIT.gov), and social media.
Before joining federal service, Nora Super served as Director, Federal Government Relations, Health and Long-Term Care at AARP. In this role, she was responsible for managing AARP's government relations activities regarding health care reform, Medicare, Medicaid, long-term care, and prescription drugs. Before joining AARP, Nora represented Kaiser Permanente's eight regional Permanente Medical Groups as the Permanente Federation's Director of Public Policy and Government Relations.
Nora has more than 20 years of experience working in Washington, DC on a wide range of aging policy issues, including health care delivery and payment reform, Medicare, Medicaid, long-term care, retirement income security, and other federal and state aging programs. She has worked in academia and in the private sector, including the GWU Medical School, the National Health Policy Forum, the Washington Business Group on Health, and the Employee Benefit Research Institute. She has also served in government at both the local and state level, and as congressional staff.