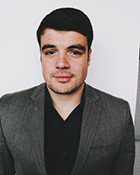 Matt Isola is the Co-Founder of Longevity Labs, a company that pairs the technological knowledge of younger generations with the enthusiasm of older adults to derive useful, compelling insights about products and services.
The Lab leverages insights gained from dynamic qualitative and quantitative studies, as well as hands-on tests that illustrate the needs, wants, and desires of the Longevity Consumer in regards to technology.
Earning a masters in Strategic Communication and Design at the University of Colorado, he focused on human-centered design and product innovation. There he started the Generation Exchange — a 501(c)3 organization — that holds free workshops pairing college students with older adults looking for answers about everyday technology devices. Since its creation, Generation Exchange has empowered over 500 people through one-on-one conversations about technology.
He views the aging population not as vulnerable or in need of assistance, but as an untapped cognitive resource ripe with opportunity. Matt is an advocate for the optimization of technology for the Longevity Consumer.