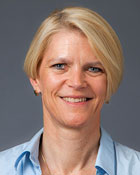 Katie Roper is the VP of Sales for Caring.com, the largest online resource specifically targeting family caregivers.  
An early dot-com entrepreneur, Katie sold ads in 1996 for Four11.com, Yahoo's first acquisition. And in ten years of running a successful consulting practice, she helped dozens of start-ups launch profitable new products and services. Always thinking outside the box, she reoriented a sales team to sell software as a service rather than a traditional licensed product, expanded a narrowly focused manufacturing services company to three new markets, helped Internet service providers hone their strategies for selling to mid-tier companies, and launched the first successful direct sales effort at Polycom.
Katie holds an M.B.A. from Stanford University's Graduate School of Business and a B.A from Harvard College.