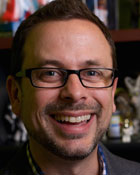 In his role as Chief Engagement Officer, Jonathan is responsible for people development at Immersion Active.
He co-founded Immersion Active in 1998, and in 2005, saw how underserved the baby boomer and senior markets were online, and how disenfranchised they were by marketing in general. Since then, Jonathan's creative and strategic direction—using Immersion Active's "Meaningful Online Engagement Model"—has resulted in over $1.5B worth of successful online transactions.
Jonathan is co-author of Dot Boom: Marketing to Baby Boomers through Meaningful Online Engagement, and has worked with brands such as AARP, Del Webb and Home Instead Senior Care, as well as a variety of travel, non-profit, and senior care clients.
Under his leadership, Immersion Active has been recognized by organizations such as The Webbys, the WOMMYs, the Web Health Awards, and the Content Marketing Awards. Additionally, Jonathan has served as a judge for such shows such as the Effies and the National Mature Media Awards.