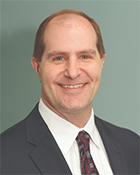 Jerry Carley, president/CEO of the Benedictine Health System, brings more than 25 years of senior care experience with extensive governance, financial and operational oversight in multi-site, multi-state organizations. His experience includes, but is not limited to: strong financial performance that exceeds industry benchmarks; strategic repositioning, diversification and expansion of services; long-range strategic planning and growth strategy development; creation of new companies and product lines; as well as new development and construction of continuing care retirement communities.
Prior to his current appointment, Carley served as a member of the BHS Board of Directors and its finance and strategy committees. He was an active participant, providing guidance to BHS leadership on overall financial and strategic direction as well as for the areas of quality, operations and Mission.
Before joining BHS, Carley was the president and CEO of CSJ Initiatives, Inc., Wichita, Kansas. CSJ Initiatives is a fully integrated senior care company that owns and manages nine corporations located in six states and provides a variety of subject matter expertise through service agreements to approximately 15 organizations unrelated to CSJ Initiatives.
An experienced leader in Catholic health care, his past positions include president/CEO, Via Christi Villages, Inc.; divisional director of operations, Care Initiatives, Inc., West Des Moines, Iowa; and administrator, Evangelical Lutheran Good Samaritan Society, Sioux Falls, S.D.
Carley has served on the board of directors for LeadingAge Kansas, the public policy committee for LeadingAge Iowa, committees for the Iowa and Missouri Health Care Associations and other professional and community associations in the Midwest.
He holds a master of business administration degree in financial management from City University, Bellevue, Wash., and a bachelor of science degree in health services administration from the University of South Dakota-Vermillion. Carley is also a licensed nursing home administrator in Iowa and Kansas.