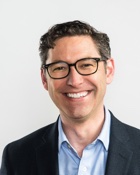 Mr. Makowka has over fifteen years' experience in strategic consulting and market research. For more than half of that time, he has been focused on the wants and needs of the 50+, both domestically and internationally. As a Director of Market Innovation in AARP's Enterprise Strategy and Innovation group, Jeff helped to launch, and now co-manages, the Innovation@50+ initiative, which aims to spark entrepreneurial activity across public and private sectors.  Anchored by the AARP social mission – to enhance the quality of life for all as we age – the program enlists the expertise of visionary thinkers, entrepreneurs, the investment community, industry, and not-for-profits to spur innovation to meet the needs and wants of people over 50.
A frequent public speaker and recognized expert on the needs and wants of the 50+, Jeff speaks regularly at industry events and conferences including Digital Health Summit, Health Datapalooza,  Health 2.0, HXR Refactored, Medcity Converge/Engage, What's Next Boomer Business Summit. He has been quoted in publications such as Fast Company, Venturebeat.com, NPR.org, USA Today, Forbes.com and AARP the Magazine.
Mr. Makowka earned a Bachelors of Arts in Philosophy and English Literature (double major) and received his Masters of Arts (Licentiate) in Philosophy (Magna Cum Laude).