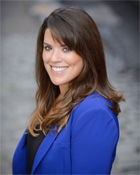 Elena Lipson has 15 years of healthcare consulting experience, serving federal and commercial clients and mentoring emerging companies.  She is a Principal and Founder of Mosaic Growth Partners, a consulting firm based in Washington, D.C., that specializes in helping organizations grow and implement change.  The firm offers results-driven strategy, business development and change management solutions as well as personalized trainings and workshops to organizations of all sizes from many different sectors, including federal, state, commercial, non-profit and emerging organizations.
Prior to founding Mosaic Growth Partners, she led AARP Services' business development efforts in health and caregiving. At AARP, Elena was responsible for securing strategic partnerships, developing new business models and serving as an innovation champion. In this role, she built deep market knowledge and a strong industry network by working with hundreds of emerging and established companies.
Elena also spent nearly 10 years as a management consultant, primarily with Deloitte Consulting, where she led strategy, human capital and technology engagements for federal health clients and the Deloitte Center for Health Solutions.  She also led sales and capture strategy, teaming, strategic business development and client excellence for the Department of Defense Military Health System account.
Elena is a Project Management Professional and a certified Agile Scrum Master.  She graduated with a Master of Public Policy from American University and a B.A. in Political Science with High Honors from the University of Michigan. She can be reached at (703) 957-0634 or elipson@mosaicgrowth.com.