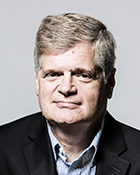 Dan Hutson is chief strategy officer for HumanGood, California's largest nonprofit provider of senior housing and services and one of the 10 largest of its kind in the nation. It serves nearly 10,000 residents in more than 80 life plan and affordable housing communities in five Western states.
As CSO, Hutson is responsible for strategic planning, marketing, corporate communications, innovation and experience design. His communications and marketing programs have been honored by the National Mature Media Awards, Content Marketing Awards, EXCEL Awards and Healthcare Marketing IMPACT Awards, among others.
Hutson has more than 30 years of experience in helping corporations, nonprofit organizations and educational institutions meet their strategic planning, marketing and communications needs.