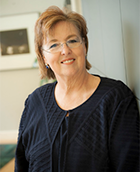 Connie Benton Wolfe, MA, is President & CEO of Aging and In-Home Services a designated area agency on aging serving nine-counties in northeast Indiana and a designated Aging & Disability Resource Center.  In addition, she serves as Co-CEO of Preferred Community Health Partners, LLC, a management services organization and national provider network built to secure contracts from managed care and other payer entities and then utilize experts from community-based organizations to address the adverse social determinants of health of complex patients.
Benton Wolfe has worked as a leader in the field of aging for over twenty-five years holding positions both at the national and community levels.  Prior positions included Executive Director of the National Association of Nutrition & Aging Services Programs and founding Executive Director of the National Meals on Wheels Foundation where she led extensive public policy work related to home and community-based service systems for older adults.   She also served as principal investigator for one of thirteen National Eldercare Institutes on Aging funded by HHS and a CMS funded Community Care Transitions demonstration serving high-risk Medicare patients. She has provided training and consultation in over 35 states plus Japan, Denmark and Canada.
Benton Wolfe is a Board Member for the American Society on Aging and has been active as an officer in the Indiana Association for Area Agencies on Aging and the Indiana Aging Alliance.