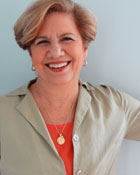 Pat Campbell is an accomplished marketing entrepreneur with an extensive history of spearheading innovative strategies that have grown a diverse range of consumer-based, multi-channel businesses. Her experience encompasses leading Fortune-500 including Time Inc., American Greetings.com, Barnes&Noble.com, Advanta and Popular Science Properties. In addition, Pat works with small businesses and Internet start-ups to help fledgling businesses grow their revenue. Her expertise spans all aspects of direct-marketing, direct-selling, online marketing, social media, web and content development and customer experience solutions.
Most recently, Pat developed and implemented a comprehensive marketing strategy for Premier Care, an innovative line of bathing products targeted to seniors wanting to maintain their independence at home. Using valuable market research, new customer segments were identified and strategies implemented to generate new leads for their field sales distribution network.
Pat has been involved in numerous start-ups including VirtualCelebration.com, HoofBeatMedia.com, PawsForMe.com. She is CEO and founder of Terra Nova Direct, an outsourced marketing and operations arm for companies focused on marrying traditional and new media to identify and reach new market segments.